What is Star Trek: Collective Mischief?
Star Trek: Collective Mischief is a vertical Shmup (Shoot'em'up) made on the Pico-8 fantasy console.
The premise of the game is asking the question: "What if Paramount decided to commission an NES game for Star Trek First Contact… in 1996?"
The answer is Star Trek: Collective Mischief!
---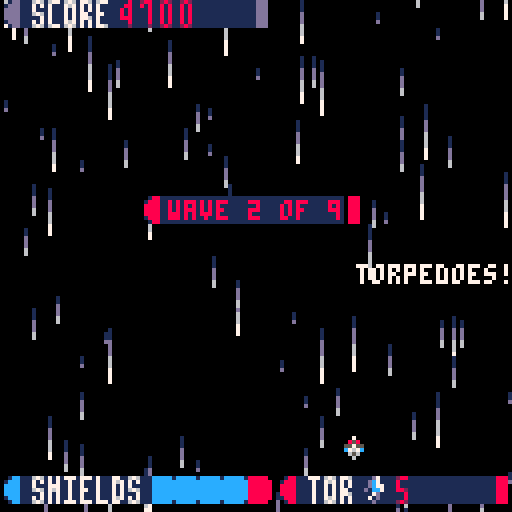 It is a project that started Chaz's game dev journey in late June 2022. This was powered by the Lazy Devs' Basic Shmup tutorial. In this tutorial, Chaz learned the programming, game design, "juice", game shake, pixel art, sound effects, and other skills in an attempt to create a game that is actually fun. Maybe one that celebrates Star Trek and celebrates ships like the USS Defiant.
Now with the Basic Shmup Game Jam, Chaz had a chance to do add more juice and more polish to this game to really set it apart.
While Chaz has been working on this game the longest, it will actually end up being Chaz's second game.
This game released on September 19th, 2022. Please find download links below! You can play on the web via Itch.io or Newgrounds.
It just bears noting that this is not a licensed Star Trek project and is considered a fan project only. No profits will be taken for the production of this game and will be completed for educational/portfolio purposes only.
---
Downloads & Links:
You can find binaries for Windows, Mac OS, Linux, ARM Linux (Raspberry Pi), and Android on Github/Itch.io:
Star Trek Collective Mischief on Itch.io
Star Trek Collective Mischief on Github
Star Trek Collective Mischief on Newgrounds
Collective Mischief on Lexaloffle BBS
---

Most of the programming and all of the art assets were created by me (Chaz).
If it wasn't for Krystian I would not have began my Pico 8 and game dev journey at all. Thank you to him most of all! This three month long adventure has been absolutely wild and I've learned so much. Consider me absolutely JAZZED for phase 2. I'm secretly hoping it is in Love2D!
Playtesting by Cat, orionwl, Aktane and Otto from the Lazy Devs Discord, and dw817 from the Lexaloffle BBS.
TNG Music/Starfield by FelixDR from Lazy Devs Discord.
Various music and SFX by Gruber.
Boss music by Sebastian Habler.